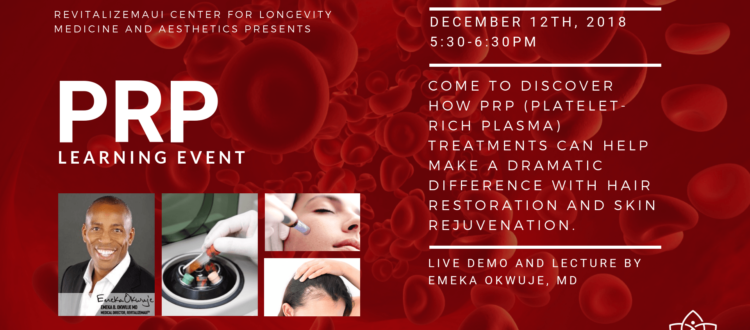 Join us for our PRP Happy Hour and Live Demo!
Did you hear about our upcoming event?
You're Invited to a FREE PRP (Platelet Rich Plasma) Happy Hour and Live Demonstration by our medical Director Emeka Okwuje, MD at our Center in North Kihei.
Join us on Wednesday, December 12th, 2018 5:30-6:30 pm to discover how PRP treatments can help make a dramatic difference with hair loss, aging skin, inflammation reduction, tissue healing and more.
Our presentation and live demonstration by Dr. Okwuje will start promptly at 5:45 pm. Enjoy a Champagne reception and light refreshments, special pricing on our PRP and aesthetic services and possibly win a free PRP treatment – this evening only.
We hope to see you here!
SPACE IS very LIMITED!
To attend you must RSVP HERE.